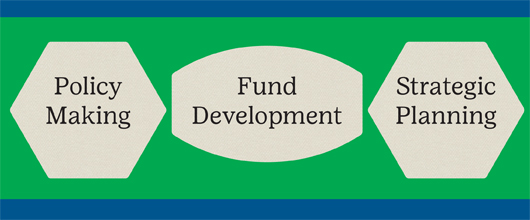 Board of Directors
Elected by delegates from the Council membership, 12 women and men serve on the Girl Scout Council of Colonial Coast Board of Directors. They establish policy, approve budgets, set direction for the Council and monitor progress.
Barbara Tierney 

Chair

Carolyn Pittman

Vice-Chair

Luis Estrada

Treasurer

Tracy Keller

CEO

Barbara L. Tierney
Barbara L. Tierney began her lifelong participation in Girl Scouts as a Brownie. In her youth, her family moved to Puerto Ordaz, Venezuela, where there was no Girl Scouts.  Her mother, Betty Hoover, organized Lone Troop 1, Troop on Foreign Soil and gradually recruited new scouts until the troop qualified to become the first troop of Girl Guides in Venezuela. Barbara received her Girl Guide pin from Lady Baden Powell, who officiated the transition ceremony. Barbara later earned the Curved Bar award, the highest award in Girl Scouts at that time. During her experience as a young Girl Scout, she learned the power of building an organization to help others achieve their potential.
Barbara graduated summa cum laude from the University of Pittsburgh, with concentrations in finance and law. After graduating, Barbara pursued a multi-faceted financial career with several major financial institutions, banks and Wall Street firms. She returned to her hometown of Portsmouth, Va., in 2005 to become a banker at TowneBank in Suffolk, Va., where she retired in 2014 as a Senior Vice President. While working at TowneBank, among many other responsibilities, she was very involved in mentoring and training the bank's young Management Associates, providing credit skills and career training. Barbara's passion for helping young people develop their professional careers is very much a consequence of her early experiences with Girl Scouts. The activity she treasures the most is sharing her professional and personal skills with the Girl Scouts of the Colonial Coast. 
The Tierney Family prides itself on having four generations of Girl Scouts! Barbara's experience on the Girl Scouts of the Colonial Coast Board of Directors began in 2014. She has served on the Finance, Audit and Philanthropy committees. She was elected Vice-Chair in 2017 and elected Chair in 2019 for a two-year term. 

Carolyn Pittman

Carolyn Pittman has worked as a financial executive for Huntington Ingalls Newport News Shipbuilding, Northrop Grumman Corporation, and Ernst & Young LLC during her professional career spanning the last thirty-three years. Carolyn has an MBA in Finance from Dallas Baptist University and a bachelor's degree in accounting/data processing from the University of Arkansas, Fayetteville. She is a licensed Certified Public Accountant and a licensed Certified Information Systems Auditor. Carolyn currently serves on the Board of Directors of Minerals Technologies, Inc. (NYSE: MTX), Girl Scouts of the Colonial Coast, and the Virginia Symphony Orchestra. She is a member of the American Institute of Certified Public Accountants, Financial Executives International, Women Corporate Directors (Washington D.C. Chapter), the Information Systems Audit and Control Association, Daughters of the American Revolution (Comte de Grasse Chapter of Yorktown), Impact 100 of the Greater Peninsula, Junior League of Hampton Roads, Women United of the Peninsula, and is a 2018 graduate of the KPMG Executive Leadership Institute for Women (Richmond).  Originally, from Springfield, Missouri, she lived in Dallas, Texas, for several years before relocating to Yorktown in 2011. Carolyn has served the board as Treasurer and was elected Vice-Chair in 2019 for a two-year term. 
Luis Estrada 

Luis Estrada has worked exclusively with nonprofits as an experienced Finance Manager and Accounting Professional throughout his career. In 2011, he graduated from Old Dominion University where he earned his Bachelor of Science degree in Business Administration, double majoring in finance and accounting. While studying at ODU, he connected with a local nonprofit and was inspired to get involved. Through this work, Luis experienced the direct impact of nonprofits at an individual and community level, which fundamentally changed his professional and personal focus to nonprofits. From that point on, Luis dedicated himself to serving nonprofits through finance and administration. He has had the privilege of managing the finance departments for a few local nonprofits, where he gained experience in federal and private grant management, donor relations and accounting, general nonprofit administration, accounting information systems, nonprofit tax issues, and overall organizational strategy and management.  Luis was elected Board Treasurer for GSCCC in 2019 for a two-year term. 
Tracy Keller
Tracy Keller graduated from Virginia Wesleyan College in 2004 with a bachelor's degree in computer science and mathematics. Since 2005, she has served as chief executive officer of the Girl Scouts of the Colonial Coast, a regional nonprofit dedicated to improving the lives of girls. The regional Council serving nearly 12,000 girls with the help of more than 5,000 adults in southeastern Virginia and northeastern North Carolina, has received numerous awards that include: the 2008 Agency of the Year Award from the United Way of South Hampton Roads; the 2009 "4ward" Hampton Roads Award from Lead Hampton Roads; the National Philanthropy Outstanding Youth Award in 2012; and the Marian Palmer Capps Award from the Urban League for outstanding work as an informal educational institution.
She received a certification in nonprofit management in 2007 from the Academy for Nonprofit Excellence and during that year was selected from an elite group of Girl Scout CEOs to attend a Strategic Leader Seminar at the United States Army War College sponsored by the Columbia University Business School. In 2009, she graduated from the Lead Hampton Roads executive program and in 2010 joined the ranks of the prestigious Civic Leadership Institute alumni. Her most recent award includes the 2018 Women in Business Award by Inside Business.
Tracy is currently a member of the following organizations: Great Bridge Rotary Club, Tidewater Community College Alumni Council, United Way of South Hampton Roads and United Way Virginia Peninsula Women's United, Hickory Middle School PTA Board, and serves as a Stephen Minister at Hickory Ridge Community Church. She is lifetime Girl Scout who received the Girl Scout Gold Award, the highest award a girl may earn in Girl Scouts. As an adult member, she has been recognized with the Girl Scout Thanks Badge, the highest adult honor. 


National Delegates represent Colonial Coast and cast votes at the Girl Scouts of the USA National Convention, held every three years. Nominations are made prior to the Council's Annual Meeting. National Delegates are elected at Annual Meeting and participate in training and preparations prior to attending the National Convention.