Girls K-12 are invited to choose a track and earn patches right at home by completing fun activities!
Discover our four pillars on Mondays, Connect on Wednesdays, and Take Action on Friday to finish off the week. The fun starts April 6th so register today!
Continue >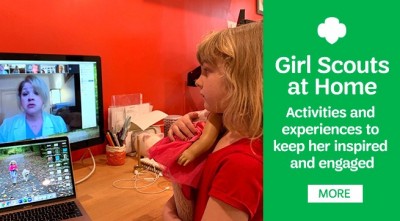 Stay connected to Girl Scouts across the nation and around the world.
Bring the exploration, fun and learning of Girl Scouts to your family even when circumstances are keeping Girl Scouts from meeting up in person.
Continue >
Girl Scouts of the Colonial Coast celebrates 100 years of women's suffrage.
Girl Scouts are invited to discover history and participiate in a series of activities to celebrate the 100th year of women's rights to vote, including a new E.D.G.E. (Engage, Develop, Guide, Empower) Leadership Journey.
Continue >



GSCCC CEO receives official proclamation
18 Mar 2020
Girl Scouts of the Colonial Coast was invited to the Chesapeake City Council meeting where CEO Tracy Keller was issued an official proclamation from Chesapeake City Mayor Rick West.