Girl Scouts from Virginia Beach setup a virtual cookie booth to support health workers during these difficult times. Read more about their amazing idea and consider ways you can also take action!
Continue >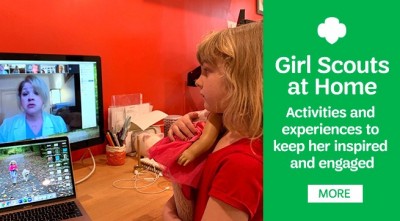 Stay connected to Girl Scouts across the nation and around the world.
Bring the exploration, fun and learning of Girl Scouts to your family even when circumstances are keeping Girl Scouts from meeting up in person.
Continue >
Girl Scouts are invited to discover history and participiate in a series of activities to celebrate the 100th year of women's rights to vote, including a new E.D.G.E. (Engage, Develop, Guide, Empower) Leadership Journey.
Continue >



GSCCC CEO receives official proclamation
18 Mar 2020
Girl Scouts of the Colonial Coast was invited to the Chesapeake City Council meeting where CEO Tracy Keller was issued an official proclamation from Chesapeake City Mayor Rick West.