Increase your Troop Size and Earn Make New Friends Patches! 
Did you know that GSUSA research shows that the most successful troops have at least 12 girls? Just imagine what could happen if your troop added at least one new girl? Not only would more girls be able to participate in Girl Scouts, it allows existing members to flex their leadership and social skills which builds confidence as they mentor their new Girl Scout friends.
Continue >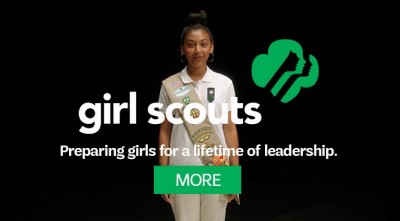 Whether your girl is part artist, part scientist, or part explorer, Girl Scouts is where she can pursue what she loves and blaze new trails. Here, girls take on leadership roles in a girl-led space and develop skills they'll use to make an impact. Watch the new video to see current Girl Scouts show the world they know who they are and what they're made of—they're all Girl Scout!
Continue >



Show and Tell: Cave Explorers!
10 Jan 2019
In a brand new "Show and Tell," two Girl Scouts talked about the fun and adventure they've had crawling through cracks and crevices to discover a world few surface dwellers get to see!