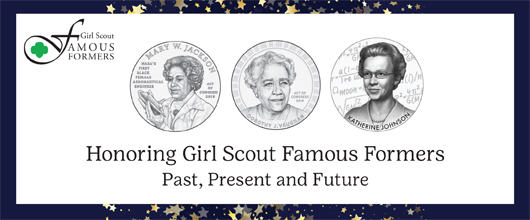 Famous Formers Luncheon
Each Girl Scout membership year, Girl Scouts of the Colonial Coast recognizes local Girl Scout alums who are leaders in their field. These women serve as role models for girls today – the future leaders of tomorrow. 
---
2019 Girl Scout Famous Formers Luncheon
We are accepting nominations for the 2019 Girl Scout Famous Formers! Our Famous Former nominees should be former Girl Scouts living in southeastern Virginia or northeastern North Carolina who have distinguished themselves as an outstanding role model for girls and women. Do you know someone who would be perfect for this honor? Nominate her today!
---
Save the Date!
2019 Girl Scout Famous Formers Luncheon
Thursday, November 21, 2019
Hilton Norfolk The Main
Tickets will be avaliable June 1. If you are interested in becoming a sponsor, contact philanthropy@gsccc.org.
---
2018 Girl Scout Famous Formers:
Click the names below to see a video of each of these amazing women!