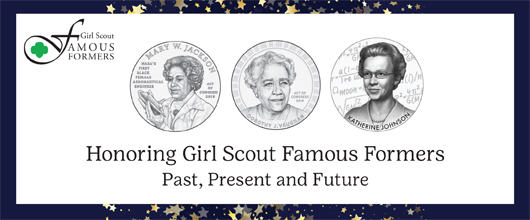 Famous Formers Luncheon
Each Girl Scout membership year, Girl Scouts of the Colonial Coast recognizes local Girl Scout alums who are leaders in their field. These women serve as role models for girls today – the future leaders of tomorrow.  This year, GSCCC will also honor a company that exemplifies our mission and supports girls with the Corporate Champion of the Year award.
---
2019 Famous Formers
Kate Godby, Hewlett Packard Enterprises
Janice "Jay" Johnson, Virginia Organizing 
Joann Bautti, Eastern Virginia Medical School
Lisa Spiller, Christopher Newport University
Tricia Hudson, Strategic Solutions by Tricia, LLC
Bonita Billingsley Harris, Dominion Energy 
Future Famous Former (Ages 18-30)
Michaela Britt, Dollar Tree 
Guest Speaker 
At the luncheon, guests will hear from Dr. Patricia Turner of The Norfolk 17, the first group of African American students to integrate into Norfolk Public Schools. Dr. Turner, a Girl Scout alum, will share how her life-altering experiences in her youth made her the G.I.R.L. champion she is today. 
---
Brand New Award!
Girl Scouts of the Colonial Coast awarded Townebank with The Corporate G.I.R.L. Champion of the Year award during the Girl Scout Famous Former Luncheon.
This honor is awarded to a company that continues to offer to their employees and community exposure to the Girl Scouts' four pillars: Outdoors, STEM (Science, Technology, Engineering, Math), Living Skills and Entrepreneurship. Like every Girl Scout, the Corporate Champion must be diverse in how it is making the world a better place.
The Corporate G.I.R.L. Champion of the Year honoree will:
 Have made efforts to better the environment of the community around them
Have made efforts towards gender parity in STEM fields (does not need to be a STEM focused company to qualify)
Have made efforts to provide their employees learning, training and education opportunities to continue to hone employee's skills
Have made efforts to recruit and retain women in leadership roles
---
Dominion Energy
Strategic Solutions by Tricia, LLC
Barbara Tierney
Townebank
YWCA