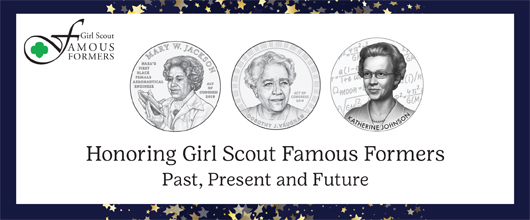 Each year, Girl Scouts of the Colonial Coast (GSCCC) honors Girl Scout alum, women in the community who were Girl Scouts as girls, and who have distinguished themselves as outstanding role models for girls and women through their professional and volunteer achievements. All honorees are women living in southeastern Virginia or northeastern North Carolina. In addition to Famous Former honorees, there is a category for a Future Famous Former as well.
This year's awards luncheon will be held on September 15, 2022 at the Hampton Roads Convention Center. Save the date, and check back for registration details!
Nominations are now closed.
2020-2021 Famous Formers Luncheon
Congratulations to all our honorees! (Pictured above, left to right:)
Michele Anderson, President and CEO, United Way of South Hampton Roads; Cathy Fox, Business Operations Manager, The Adventure Park at Virginia Aquarium; Dawn Peters, Associate Planner, Lincoln Financial Advisors; Michelle Woodhouse, Vice President of Academic Affairs and Chief Academic Officer, Tidewater Community College; Janet Roach, Anchor/Reporter 13NewsNow; and Suzanne Garcia, President/CEO, SeaHill Spa at the Cavalier. (Not pictured: Sarah Noffsinger and Holly Deal.)
We are proud to announce that the 2020 Corporate G.I.R.L. Champion of the Year is United Way of South Hampton Roads! Michele Anderson, President and CEO, accepted the award on behalf of the organization during the Famous Formers Luncheon.

2020-2021 Famous Former Honorees:
Holly Deal, Lieutenant Commander of Coast Guard Finance Center, U.S. Coast Guard
Cathy Fox, Business Operations Manager, The Adventure Park at Virginia Aquarium
Suzanne Garcia, President/CEO, SeaHill Spa at the Cavalier
Dawn Peters, Associate Planner, Lincoln Financial Advisors
Janet Roach, Anchor/ Reporter, 13NewsNow
Dr. Michelle W. Woodhouse, Vice President of Academic Affairs and Chief Academic Officer, Tidewater Community College
Future Famous Former: Sarah Noffsinger, Middle School Teacher with Chesapeake Public Schools
Famous Formers' Video Interviews
Table Sponsors
Amy Coyne • Seahill Spa at the Cavalier • Palmer & Cay
United Way of South Hampton Roads
The Adventure Park of Virginia Aquarium • Wall, Einhorn & Chernitzer, P.C.
Jeff Thomas • Dawn Peters
Barbara Tierney and Marisa Porto
 Tidewater Community College