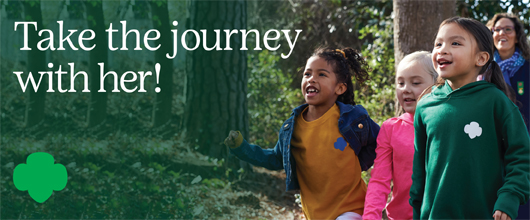 Say Yes to Volunteering with Girl Scouts
Did you know that…


88% of Girl Scout volunteers believe their life is better because they volunteer with Girl Scouts.


94% of Girl Scout volunteers say they have made new friends because they volunteer.


Two-thirds believe their volunteer experience has helped them professionally.


95% of Girl Scout volunteers are happy knowing they are making girls' lives better.
Help Girl Scouts dream big.
As a Girl Scout volunteer, you can give girls opportunities to have fun, meet friends, and make a difference in their communities and in the world. Be the troop leader that supports a girl every week—the one that watches her smile get bigger as she grows more confident. Mentor a Girl Scout while she works on a special award or during cookie season so she reach her goal. Or work with other adults to provide the kind of behind-the-scenes support that makes it possible for every girl to make amazing new memories at Girl Scouts. You can facilitate workshops or be an outdoor facilitator and teach others outdoor skills! Whether you can give a few hours, a few weeks, or a few months, volunteering with Girl Scouts is flexible, fun and for all!
When you become a volunteer, you'll immediately start to feel and see the impact you have on the lives of girls by giving them the leadership experiences they need. You'll experience the joy of creating a more fair, equal, and compassionate world where every girl has a seat at the table.
You can grow by being a Girl Scout volunteer:
Experience the confidence that comes with being a role model.
Discover your leadership style as you serve in your role and engage with others.
Meet new people and make friends in your community.
Build new skills and have fun!
---
Zoom with us!
Are you interested in volunteering with Girl Scouts? Join us for an information session about all the volunteer opportunities you can find at Girl Scouts. From giving leadership to a troop or group, to giving a hand at special events or helping with archives, there's something for everyone! Build skills, make friends and make the world a better place. After you register, you will receive a confirmation and a link for the Zoom session.
Sessions are held via Zoom on Tuesdays at 7:00 PM.
Get Started
We are excited to learn more about you and how we can help you have a great volunteer experience. Let us know the best way to contact you and we'll be in touch!