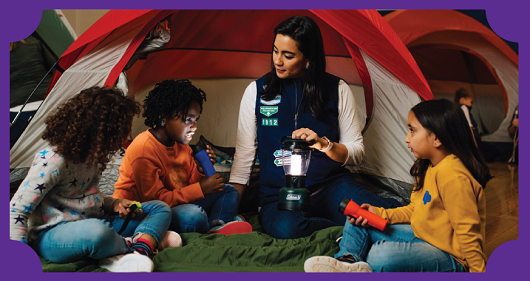 Why Volunteer
There are opportunities for everyone!
Help girls make friends, plan new adventures, and build a better world.
Change-makers. Trailblazers. Explorers. We're talking about Girl Scouts, of course, but we're also talking about the people who become Girl Scout volunteers.
Just like the Girl Scouts they guide, volunteers lead with their hearts and bring a playful sense of curiosity to everything they do. Whatever their unique skills or interests, volunteers help Girl Scouts unlock their limitless potential and make a lasting difference in the world.
See for yourself how empowering it is to be a role model. Whether you're looking for short-term opportunities or to start a troop of your own, connect with us and start making an impact.
Zoom with us!
Are you interested in volunteering with Girl Scouts? Join us for an information session about all the volunteer opportunities you can find at Girl Scouts. From giving leadership to a troop or group, to giving a hand at special events or helping with archives, there's something for everyone! Build skills, make friends and make the world a better place. After you register, you will receive a confirmation and a link for the Zoom session.
Sessions are held via Zoom on Tuesdays at 7:00 PM.
Because of you we're able to build girls of courage, confidence, and character and prepare them for the lifetime of leadership, success, and adventure that every girl deserves. Although everything girls do in Girl Scouts is girl-led, mentors like you make all the difference in the quality of a girl's experience and the amazing things she learns she is capable of accomplishing. Because when your spirit shines, hers does, too.
It's a fact: without our volunteers, we couldn't and wouldn't be the largest girls' leadership development organization in the world. But we are. So thank you!
Without you, there's no us—THANK YOU!
Girl Scouts of the Colonial Coast is a recognized Service Enterprise organization and certified as such, an organization that integrates volunteers into its human capital strategy to achieve its social mission!