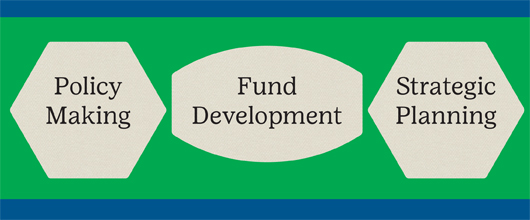 Board of Directors
Elected by delegates from the Council membership, 16 women and men serve on the Girl Scout Council of Colonial Coast Board of Directors. They establish policy, approve budgets, set direction for the Council and monitor progress.
Current Officers
Carolene Goodwyn-Harris, Vice Chair

Catherine Magill, Treasurer
Cheryle Mack, Chair
Cheryle Mack is a Vice President with BB&T and currently serves as the Regional Business Deposit Officer for Hampton Roads Region and as a member of BB&T's Hampton Roads Senior Leadership Team helping the region with strategic initiatives to grow and retain deposits. Cheryle has 25 years of banking experience concentrating on retail management, commercial lending and treasury management. Her expertise over the past 15 years has been working directly with municipal and not-for-profit clients in the Hampton Roads area. Cheryle is a graduate of The College of William and Mary and is currently working on her Master of Business Administration at Regent University. Cheryle currently serves as a Member of the Association of Fundraising Professionals Diversity committee, a Board member with the Virginia Beach Travel and Tourism Association, and a Member of Executive Women International Hampton Roads Chapter. She also assists Skills USA in its high school entrepreneurship programs as well as providing financial literacy to high school students. She is the recipient of the Girl Scout Appreciation Pin for her volunteer service to the Council. Cheryle is very passionate about community service and uses her great communication skills to inspire others to serve.
---
Carolene Goodwyn-Harris, Vice Chair
Carolene Goodwyn-Harris is a sales and marketing professional with broad-based general management experience in soliciting new business and client experience development. She has a background in corporate and operations environments with a focus on profitable business development, corporate giving and fundraising, client value management and service excellence. Carolene is a graduate of Averett University and has been blessed to have worked for companies that have afforded her opportunities and experiences to travel domestically and abroad. Carolene is employed as the Director of Operations for Affinity Realty and Germel Inc. located in Chesapeake, VA. She assists with daily business and personal tasks in addition to planning many of the social occasions and events fashioned both personally and professionally by the companies. She has several organizations that are dear to her heart and where she lends her creative hand as volunteer coordinator for events. She is a Lifetime Member of the Girl Scouts USA and is a member of The Friends of Hampton Roads and Executive Women's International Hampton Roads Chapter.
---
Catherine Magill, Treasurer
Quan "Catherine" Magill received her Bachelor's Degree in English Language and Literature from Shangdong Teacher's University in China. She came to Old Dominion University in Norfolk, VA in 1998 to pursue a Master of Science in Accounting degree. Upon graduation in 2001, she went to work for a local public accounting firm doing audit and tax work. While attending evening classes, she completed her MBA from ODU in 2005. In July 2005, she started her own company, Great Bridge International, LLC, to help clients source products from China. The company later added promotional products to its core business. Catherine currently serves as a consultant for the Hampton Roads Economic Development Alliance. She holds board positions with several community and industry associations. These positions include: the Hampton Roads Chamber of Commerce, Chesapeake Division; Women in International Business, HR Chapter and the Chesapeake Public Schools Education Foundation.