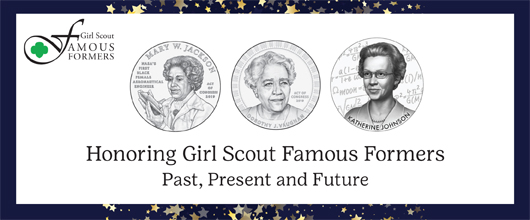 Famous Formers Luncheon
Each Girl Scout membership year, Girl Scouts of the Colonial Coast recognizes local Girl Scout alums who are leaders in their field. These women serve as role models for girls today – the future leaders of tomorrow.
 Congratulations to our 2017 Girl Scout Famous Formers
GSCCC Board Chair Carolene Goodwyn-Harris (far left) and GSCCC CEO Tracy Keller (far right) with 2017 Girl Scout Famous Formers: Anne Conner; Carol Curtis; Nicole Stuart; Cecelia Tucker; Betty Wade Coyle; Nancy Welch; Katherine Glass; and (Future Famous Former) Amy Godby. 
Thank you to all the guests who attended this year's event and to GSUSA Chief G.I.R.L. & Parent Engagement Officer Andrea Bastiani Archibald who served as our keynote speaker! Special thanks to Barbara Hamm Lee, Mistress of Ceremonies, and to our sponsors and media partners who made this event possible! 
View more photos on GSCCC Facebook
View the 2017 Girl Scout Famous Former Photos and Videos

Anne Conner, President Public Finance and Community Investment
TowneBank
Betty Wade Coyle, Retired
Child Abuse Prevention Advocate
Carol Curtis, Founder, President & CEO
Noah Enterprises
Katherine Glass, Clerk of Council
City of Hampton
Nicole Stuart, President
Top Guard Security
Cecelia (CeeCee) Tucker, Director of Community Relations
Old Dominion University
Nancy Welch, MD, Public Health Director
Chesapeake Health Department
New Category in 2017—Future Famous Former
Amy Godby, Project Manager
Anthem, Inc.
Sponsors
More Information
Questions?
For questions email Robin Thomas or call 757-548-3809.