Helen Kattwinkel Memorial Fund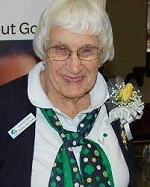 Helen May Kattwinkel
OCTOBER 4, 1930 – JUNE 28, 2022
Helen Kattwinkel was a lifetime Girl Scout who made a difference through her volunteer leadership. As a dedicated Girl Scout volunteer for decades in Hampton Roads, she held many positions that included troop leader, neighborhood chairperson, Council trainer, and lead to the Council's Gold Award Committee since its inception in the 1980s. Helen was recognized with many Girl Scout awards, including the national Thanks Badge I and II and the Council's highest award bestowed upon an individual adult—the Dorothy Barber Lifetime Achievement Award.
Helen was near and dear to the Girl Scouts of the Colonial Coast. Throughout her lifetime, her caring guidance influenced generations of girls to challenge themselves and achieve their potential. One of her passions was watching the girls grow into amazing women.
Helen was a member of the Juliette Gordon Low Society, and her legacy lives on through the Helen Kattwinkel Fund. This endowment was established by her in 2015 to support lifetime memberships for girls who earn the Gold Award and is open for contributions to continue this work in Helen Kattwinkel's memory. Thank you for making a contribution to continue and grow Helen Kattwinkel's Girl Scout legacy.
You can contribute through the dedicated, secure online form below or mail a check to 912 Cedar Road, Chesapeake, VA 23322.