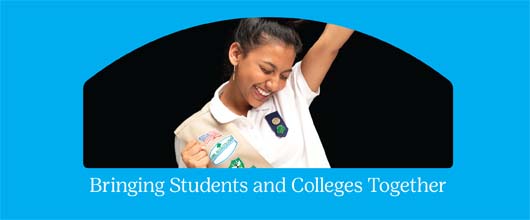 Tuition Rewards - SAGE Scholars
Girl Scouts of Colonial Coast has partnered with SAGE Scholars® to bring our members the Tuition Rewards Program.
What is Tuition Rewards?
Tuition Rewards is a unique program, offered by Girl Scouts of Colonial Coast, that can be redeemed for guaranteed minimum college scholarships, starting with freshman year, at over 430 participating SAGE Scholars® private colleges and universities.
Once registered, Girl Scouts can earn Tuition Rewards Points through Girl Scout participation. Each Tuition Rewards Point represents a guaranteed minimum discount equivalent to one dollar, with a maximum discount of up to one year's tuition, spread equally over 4 years of full-time undergraduate education. The number of Points earned determine the minimum, guaranteed tuition discount students can receive at any SAGE Scholars® member college and university. Students may receive more financial aid—but cannot receive less!
Each Tuition Rewards Point is equivalent to one dollar in guaranteed minimum tuition discounts at participating institutions.
Tuition Rewards Points never expire.
You can sign up children, grandchildren, nieces, nephews, and other family members.
Earn 500 Tuition Reward Points when you register your Tuition Rewards account! To get started, visit tuitionrewards.com/colonialcoast.
Questions? Email customercare@gsccc.org
Girls*
Earn 2,000 Tuition Reward Points when they:
Sign up for a SAGE Scholars® Tuition Rewards account.
Renew or register for the upcoming membership year by April 30.
Attend one council event or camp.
Earn at least one badge.
Participate in the Girl Scout Cookie Program – selling a minimum of 150 boxes.
Earn 500 additional Points when they earn their Girl Scout Bronze, Silver or Gold Award.
Adults*
Earn up to 2,500 Tuition Rewards Points based when they:
Sign up for a SAGE Scholars® Tuition Rewards account.
Renew or register for the upcoming membership year by April 30.
Complete background verification.
Complete position training, annual risk management and volunteer confidentiality agreement.
Be in good standing with Council.
Receive an appointment letter for a role below AND


Troop Leader:


Host at least two monthly troop meetings.
Attend at least one SU event or encampment.
Submit a complete financial report by council deadline.

Troop Helper:


Attends 90% of troop meetings AND
Complete outdoor training and attends troop or service unit camping OR
Act as the troop product coordinator OR
Act as the troop CPR/First Aider (holding valid certification).

Service Unit Volunteer Support Team:


Attend 90% of service unit meetings.
Submit final paperwork by council deadline (fall product/cookies).

Adult Learning Facilitator:


Host a minimum of 4 trainings a year.

Outdoor Facilitator:


Facilitate 2 Council events.
Facilitate 2 service unit events.
Complete the online Tuition Rewards verification form by June 30.
* Girls cannot earn Points and adults cannot assign Points after August 31 of the Girl Scout's senior year of high school.